Celebrating Service and Engagement
The Division of Diversity and Community Engagement is excited to celebrate the extraordinary work of leaders on campus, and in the community. This ceremony will highlight the community engagement accomplishments of students, faculty, staff, and community partners. These awards include: Algernon Sydney Sullivan Award, the presentation of Community Partnership Fund, and the presentation of Excellence in Community Engagement Award.
Please join us Tuesday, April 12th from 2pm-3 p.m. to celebrate our prestigious award recipients.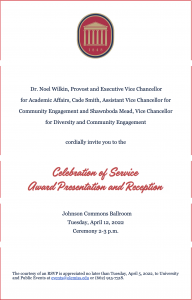 Business casual attire is suggested, but not required.